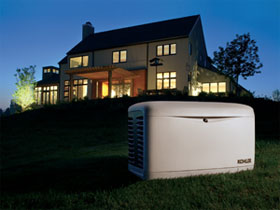 How it Works
Home or away, when the power goes out, your KOHLER generator goes into action.
An automatic transfer switch (ATS) provides continuous monitoring so in the event of a power disruption, the generator automatically activates within three seconds. The power indicator lights up to tell you if your power is coming from your utility distributor or the generator. That's right - the generator's ability to provide backup power is so fast and so responsive, KOHLER had to provide an indicator switch; otherwise you may not have even noticed the power outage!
Months or even years can go by between outages. How do you know your generator is in working condition? KOHLER's generators perform an automatic weekly self-test and emails or texts you the results. Without having to touch the unit, you'll always know it's on and ready for action.
What is great technology without integration? KOHLER has that too. Manager your generator, view power operation reports, activate or deactivate your unit and more through your computer, smartphone or tablet. Get status emails from your KOHLER unit via email or text.
Based in Monmouth County New Jersey we are proud to serve all of New Jersey and parts of New York, we wanted to bring you a high-quality, reliable product that had an impeccable industry reputation; and that is why we distribute KOHLER generators. Fully automated, self-checking generator systems that provide full backup power whether you are on site or away - now that is the ultimate peace of mind.
The basics of backup power
Unlike portable generators, KOHLER® generators start and stop automatically. So you never need an extension cord. Never have to refuel. And never have to worry. Here's why:
The automatic transfer switch monitors the electricity coming from the utility.

When the power fails or drops below an acceptable level (brownout), the generator automatically starts, and the transfer switch shifts your power from the utility to the generator.
Your KOHLER generator then supplies your home with electricity until the utility power is restored.
When the utility power is restored, the transfer switch automatically transfers your power from the generator to the utility.
Your KOHLER generator automatically shuts down, ready for the next power outage.
North Point Power Systems is the generator specialists and largest authorized KOHLER dealer in New Jersey and New York. Feel free to call us today at 732-625-0200 to learn more.