How It Works
Before the power goes out
Your automatic transfer switch (ATS) monitors the electricity coming from the utility. It's working 24/7 to protect your business. This handy little device is located on your automatic transfer switch. It tells you where your home's power is coming from — utility or generator (see colored icons below).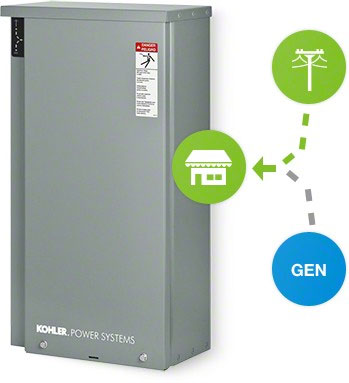 The power goes out
When the power fails or drops below an acceptable level (brownout), the ATS signals the generator to start. In seconds, the ATS transfers your power from the utility to the generator.
10-Second Response
No Refueling
By the time you read this, your KOHLER generator will have started and restored power to your business.
Your generator powers your business
Your generator then supplies your business with electricity until the utility power is restored.
No Refueling