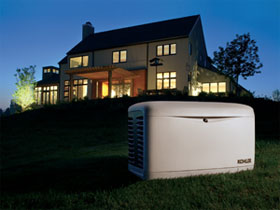 About North Point Power Systems
Your authorized Kohler dealer in New Jersey & New York
In a natural disaster, it can take emergency services up to 72 hours to reach you. During that time you need heat, food and shelter. Your home is designed to protect you, but it does this best when the power is on. As your fridge sits idle and your freezer defrosts, expensive meats, fruits and vegetables must be discarded. Have a well? Then keeping your systems operational is paramount for fresh water. A hurricane, strong nor'easter, snowstorm,- despite what the weather is doing outside, you need power and heat inside and that is why a KOHLER backup generator for your home and vacation property is essential.
A KOHLER generator takes care of all problems listed above. When the power goes out, your KOHLER generator comes on, restoring your power and your peace of mind. They can even be activated remotely ensuring your property is protected, even in your absence. It is possible to survive a natural disaster, or a short power outage, but wouldn't it be better to survive it in comfort with the lights on, the fridge working, and the water safe to drink?
Stylish and affordable, these outdoor-installed units run on propane or natural gas so you never have to worry about refuelling.
North Point Power Systems is an authorized KOHLER dealer serving New Jersey and parts of New York. Look no further for a New Jersey generator specialist when you need reliable backup power and outstanding customer sevice.